Harmony
Run your business systems in perfect harmony with your Shopify store.
Need to integrate your ERP, accounting solution or any other 3rd party solution to your Shopify store? Harmony makes it happen. Talk to an expert today to learn how Harmony can integrate your backend.
Get in touch now
Orchestrate any Shopify object such as orders, fulfillments, products, inventory, customers, metafields, refunds, gift cards, or discounts
Real-time intelligence from the "Harmony Command" Shopify application
24x7 monitoring with North American support
Exclusively
for Shopify Stores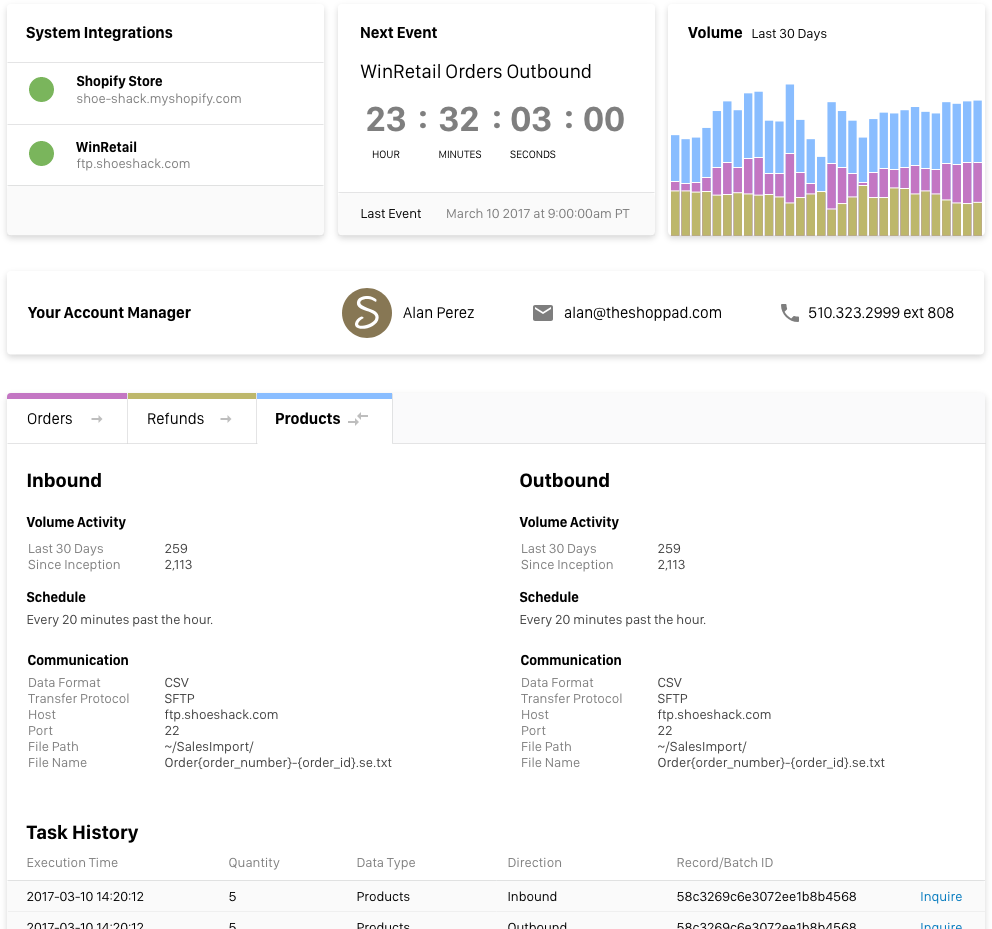 Workflow Automation
Harmony connects your Shopify store with the mission-critical applications that run your business processes and information flows. It doesn't matter whether those applications are on-premise, in the cloud, or both. Harmony's fully-managed Integration Platform as a Service (iPaaS) allows all of your data connectivity to be seamlessly handled in the cloud.
Data Mapping
Machines need a common language in order to exchange information. Harmony's Data Mapping becomes the translator between Shopify and your enterprise systems. Additionally, Data Transforms, Conditional Logic and Data Filters allow for powerful manipulations that create seamless integrations across your enterprise.
Scheduling
Harmony works according to the rhythm of your business so that the latest information is always available right when your team needs it. Does your warehouse have their pickup at 4pm every day except Sundays? Our specialists will work to understand your business and help you to design a seamless configuration.
Integrate Shopify With Your...
ERP

Enterprise Resource Planning
PIM

Product Information Management
3PL

3rd Party Logistics
IMS

Inventory Management System
OMS

Order Management System
CRM

Customer Relationship Management
POS

Point of Sale
API

Application Programming Interface
Future-Proofed Ops
Maintain speed and agility throughout application lifecycles by swapping business systems without the need to deploy developer resources. When applications no longer provide value, simply decouple them.
Flexible
Need multi-language, multi-warehouse, CMS functionality? Harmony gives you the capability to scale and develop at a moments notice. Connect your eCommerce channel with any tool you can imagine.
Scalable
Harmony is built from the ground-up for enterprise scale. Our elastic network of cloud agents is 100% scalable to meet the needs of merchants especially for retailers during peak times like holidays, flash sales, and during periods of exponential growth.
Streamlined
Regardless of how big or quickly your business is growing, Harmony delivers the same fast, efficient and error free process, every time; eliminating human error and lost data. Automation reduces processing time and improves customer communication so that ROI follows fast once key systems are connected.
Configurable
Integration is never a "one size fits all" proposition. Harmony is designed for robust customization at every level. This includes mapping, transforms, filtering, scheduling, batching rules, conversions, workflows and conditional logic. More than just a simple connection of data points, Harmony gives you visibility and control into how, when and which systems can communicate with each other.
Harmony can fundamentally change the way your business operates, creating measurable value for your store.
Get in touch now
The Integration Platform For Shopify's Premier Stores